1
promise:
local and sustainable

4
main meals
to choose from

100
cocktails
served at the bar
150
fine bottles
from our wine cellar
Two things that are especially important to us: the wellbeing of our guests and that of our natural surroundings. We value the variety of locally available ingredients and want to share the delicious abundance provided by our region with you. By carefully preserving the ingredients' natural flavours, we treat your palate to a taste of the Alps. Inspiring creations are served up in the elegant ambience of our hotel's restaurant, so that every day of your holiday becomes a gourmet surprise. Simply enjoy!
It is important to us that our guests enjoy excellent quality, while at the same time knowing that we do our best to protect the environment.
Regional & sustainable
without compromise
We know our local suppliers personally.
Our ingredients are local, fresh and fair-trade.
We do not use flavour enhancers.
We serve meat grown and processed in Austria.
Our breakfast buffet is entirely plastic-free.
Breakfast
A fresh and healthy way to start the day
Fresh, organic eggs and more
Especially when you're on holidays, you want to start your day right: by fuelling up with plenty of energy. Nourish your body so that you can take on all the adventures and make the most of each day. The hotel's varied breakfast selection ensures you'll have plenty of options to choose from. Savour hearty and sweet dishes, each one a treat for both your mouth and your eyes. Enjoy fresh juices, gourmet coffee and buttery pancakes – only the freshest quality products find their way to the beautifully set tables of our dining hall.
fine snacking
How about a refreshment between spa sessions? Or, do you need to replenish your energy after hours spent exploring the mountains? Grab a bite from our afternoon buffet and enjoy a great variety of snacks to tide you over to dinner or boost your energy before, after or between adventures. Warming soups, crisp salads, delicious cakes, muesli variations and fresh fruit keep you powered when you need it most. This is fine snacking at the Salzburger Hof Leogang.
Every morning, we present our guests the culinary highlights of the day. Select your personal favourite from our four-course dinner menu at breakfast and have something to look forward to all day. We offer one meat, fish, vegetarian and traditional regional option every day. And this is by far not all: crisp salads, delicious appetisers, creamy soups, gorgeous desserts and local cheeses take your senses on a journey of tastes and textures. The creative ambience of our restaurant contributes to your gourmet experience, as climbing holds, ski poles and other interesting decorative details ensure not only your palate will be surprised.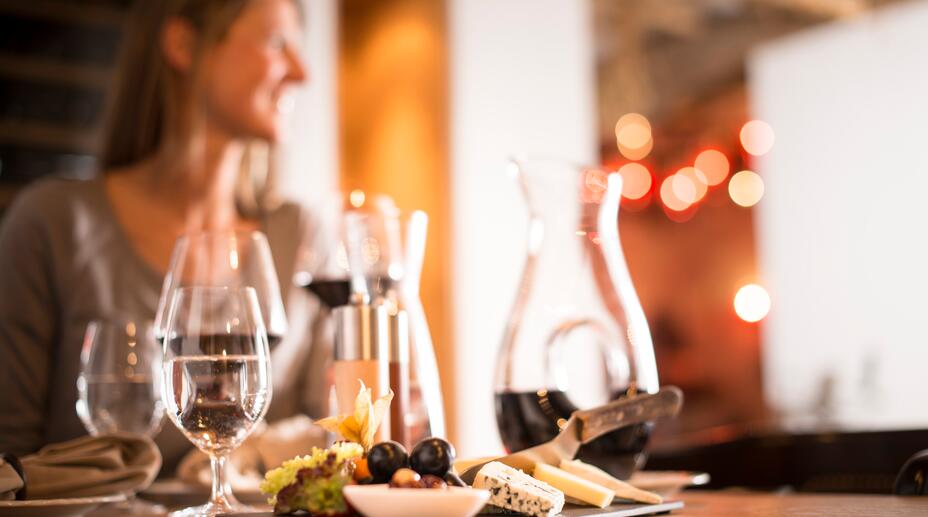 Regional Cuisine
We choose local
We value the environment we live in. The abundance and goodness it offers is unique. This is why we serve our guests local ingredients whenever we can. We know our suppliers and their farms personally and ensure that only the best quality ingredients are used in our kitchen.
For breakfast, you can enjoy organic eggs from Biohof Enn, an organic farm in Leogang. In the evening, we offer at least one regionally inspired main meal, which you can choose as a part of your four-course dinner. Herbs freshly picked in our hotel garden and our chefs' outstanding culinary skills add the finishing touches to your dining experience. Enjoy!
Our suppliers
From the Salzburg Pinzgau region
At the Salzburger Hof Leogang, we deliberately select local suppliers known for their high-quality products. This way, you can rest assured that the majority of ingredients used in our kitchen stem from the Pinzgau region and Austria. These are our main suppliers:
Pork – from Austria, specifically Danklmaier, Schladming, and Frank Lebensmittel, Saalfelden
Haunch and goulash of venison – from Austria, specifically Ager, Tyrol
Beef – from Austria, specifically Biohof Enn, Leogang, and Danklmaier, Schladming
Veal – from Austria, specifically Danklmaier, Schladming
Chicken – from Austria, specifically Frank Lebensmittel, Saalfelden
Game – primarily from Danklmaier, Schladming, and partially from local hunters
Fish – from Danklmaier, Schladming
Milk – from Pinzgau-Milch, Maishofen, and Mei Muich, Leogang
Cheese – from Sinnlehenhof, Leogang, and Mattigtaler, Salzburg
Eggs – from Biohof Enn, Leogang
Potatoes – from the Winkler family, Eferding
Vegetables – from local, seasonal produce
Herbs – fresh from our own garden
Schnapps – from Tribuser, Leogang

Muesli – from Verival, Tyrol

Honey – from the Rainer family, Leogang

Ice cream – from Eiswerk, Salzburg
a culinary journey of discovery
100% variety
The variety on your plate not only comes from varied, regional cooking, but also from our different themed dinner nights. Throughout the week, you can expect many different culinary surprises, ranging from delicious breakfast specialities to afternoon specials and creative dinner delicacies.
We regularly host themed dinner nights to keep your taste buds entertained. Enjoy ever-changing, creative gourmet cuisine, inspired by the best from the Alps and the world.
Italian night: with traditional antipasti from the buffet

Kaiserschmarrn from the buffet: fresh and fluffy Kaiserschmarrn with apple sauce, damson purre and more

Dessert buffet: with chocolate fountain as a special highlight

Children's menu: during the holiday season

Wine and dine: 4-course menu with surprising wine pairings for the perfect match

Bavarian, French or English breakfast
Thoughtful service
Allergies and dietary requirements
Our kitchen team is ready to conjure up a special meal just for you. If you are vegan or have any other special dietary requirements, please let us know. We offer thoughtful service tailored to your individual needs, including any food intolerances or allergies. After all, we want you to enjoy your holiday without any restrictions.
Wine cellar
Our service team will be happy to advise you on the perfect pairing with your dinner. The expertly curated wine cellar is your senior host's pride and joy. Anton Hörl has a passion for searching out and selecting unique wines and is also happy to share his knowledge with other connoisseurs. Taking part in a wine tasting provides the perfect opportunity to sample some of his finest wines and learn more about their fascinating stories. Take a look at our weekly programme and don't miss out on our next wine event.
The PLATZL bar
The PLATZL bar is the perfect place to wind down after an exciting day out exploring and enjoy a drink or two. Our menu includes over 100 cocktails, skilfully mixed by our talented bartenders. Sports people and those looking for a healthy treat appreciate our carefully crafted non-alcoholic cocktails. If you are interested in tasting special or rare bottles of rum, gin or whiskey, we certainly have a surprise in store for you. Our head bartender offers individual tastings upon request.
A treat for your palate
Whether you are looking for healthy enjoyment or to fully indulge yourself, a holiday at the Salzburger Hof Leogang is always a gourmet experience.
Our team is here for you!